Thinking of the countless parties we've all been to, it soon comes to mind that the opportunity opened up by unique complexity in a DJ's arsenal is becoming more and more spread throughout the DJs willing to separate themselves from the crowd.
Speaking of crowds, there's a public out there for nearly all types of DJs. The DJ just needs to get out there and act on his conviction, that he or she truly wishes to make something worthwhile.
More and more often I can see an attempt of DJs towards organic sound, which in essence is driving us toward a hybridization of the DJ arts by a union between digital power and the emotional touch of analog. Using future.dj pro as a hub between the flexibility of your DJ set and the fullness of adding live instruments is the future of what DJ setups have already starting evolving into. After all, the DJ's guarded treasure is far from sticking to vinyl , bur rather an integration of artists playing live instruments, adding to the overall naturally sounding set of the DJ. I've rarely seen this in the big clubs in the past, but there's been a slow increase in such appearances. Even the "strictly house" venues have been adding a saxophonist or a trumpeter to blend into existence a more emotional sound.
In order for sound to captivate, it needs to create emotion and live instruments backed up with digital diversity can stun even the most demanding sets of ears and feet.
This might be off-putting to those who have a hardcore electronic audience and "organic sound" might seem like a pompous invention. You might even say: "but Chris, isn't organic derived only from organic matter, perhaps we can speak of organic chicken or vegetables, but organic sound?" and you would be right. "Natural sound" should be and is more appropriate, so you'd be right if you don't tend to your DJ set in the following way: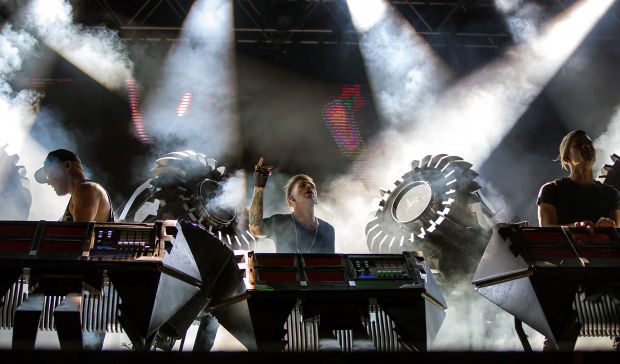 The Glitch Mob unveiling The Blade live setup. (photo by Ralph Arvesen)
Thinking of DJ sets as ever-growing performances that spread emotions, much more so than knowing the tomatoes we eat are drug-free, can allow us to view the process of evolution in much the same way, therefore organic sound.
This switch between DJing to a blend of live performance is gaining ground, not in the sense that it's overthrowing the big number of classic DJs, but that we're seeing the sudden emergence of more and more acts such as the ones done by Disclosure. Their performances are more organic because they constantly "grow" the nature of their setups. As seen here, their booths look more like ancient trees than a DJ setup, even though they also DJ. So what does this tell us?
Artists like Porter Robinson, Nero, Floating Points, Netsky and many others have already transitioned to more of a live band concept. For DJs, it's simple. We need to embrace the human edge of emotion simply by taking a leap in the direction that allows us to spread this emotion, as there is no fixed recipe for feelings.