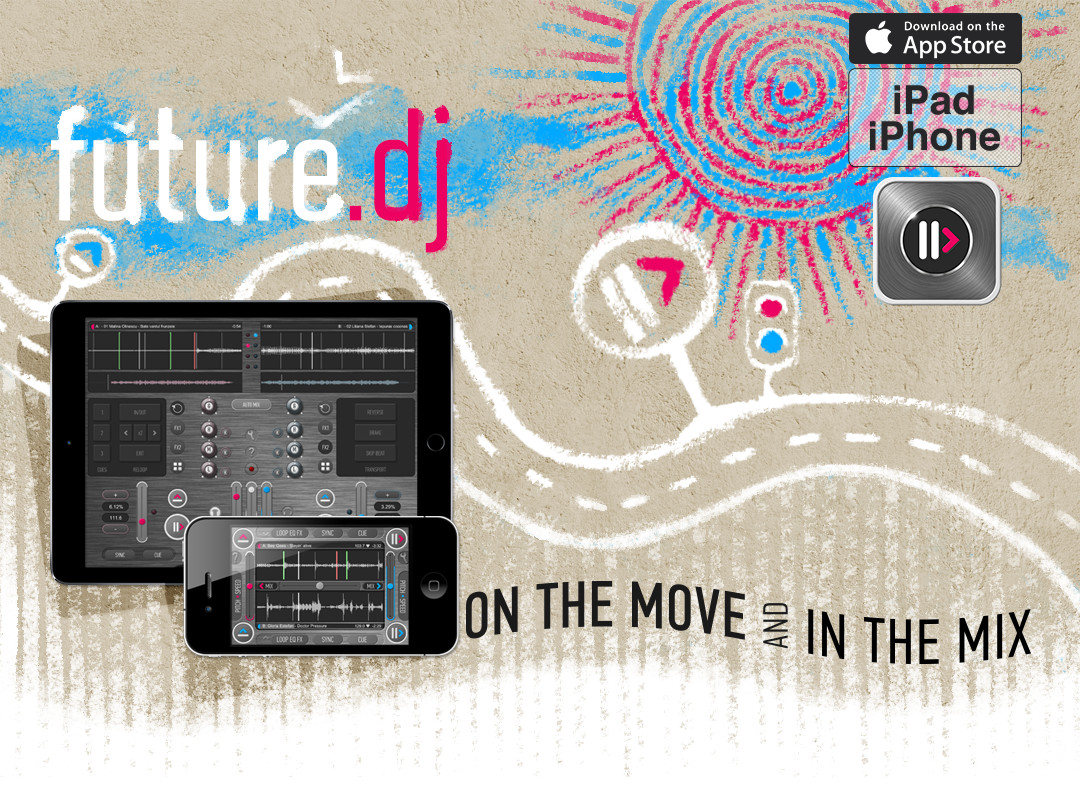 IMPORTANT: this product is no longer available on the App Store. We are working on a completely new version for 2023.
Our DJ mixing app for iPad and iPhone that allows you to mix like a pro dj in no time. This is not a toy, it's a full-blown software that you can use to mix for an entire party if you want to. Although DJ software on the iPhone and iPad is only at the beginning, Future DJ raises the standards through features such as automatic BPM detection, beat-matching, seamless looping, sampler, XY effects pad and more thus making it a complete professional handheld DJ solution.


Easy access to all your tracks
You can directly access your songs on the device, no need to import anything or use complicated desktop software. Browse your tracks by Artists, Songs, Albums, Genre and more through the iPod library browsing system.

DJ on-the-fly
Future DJ automatically analyzes a track's BPM, as well as instantaneously synchronize the beats of two songs at the touch of a button. You can make seamless loops, place and trigger hot CUE-points. The classic DJ setup with 2 decks and mixer with pitch/speed control, pitch bend and crossfader offer a complete DJ experience. Record your mixes and share them with your friends and fellow DJs.

Manual or automatic mixing
The song's speed can be controlled through the pitch slider, thus being able to manually mix by bringing both songs to the same BPM. Truly experience manual mixing by speeding or slowing down tracks with the help of the Pitch Bend buttons. You can also use the automatic Mix feature, which automatically brings the two songs at the same BPM, while at the same time seamlessly moving the crossfader to the other song.

Spice up your mix
Take full advantage of the app's effects, eqs, filters to achieve a new level of mixing complexity. Tweak the equalizer, use the kill switches, mash-up tracks, use effects to give your mix a unique sound and feel. Trigger (autosyncable) sample pads to complement your mix with new sounds.

Be unique amongst DJs
Like any pro DJ app, this features vinyl simulation including scratch, pitch, reverse-play, brake spin. HOWEVER, Future DJ doesn't just bring features from the desktop to the mobile iOS platform. We also use the iPhone/iPod to create distinctive features. One of these is MotionPlaying™, a feature that uses the iPhone's gyroscope to play, pause, scratch, slow down and speed up a track simply through the motion applied to the device. Just drop your iPhone on a turntable and start the party!


Tech Specs
full feature list and technical details
General
classic DJ setup with 2 decks and mixer
different interface for iPad and iPhone
fully manual or automatic mixing (one-click beat-matching and sync)
extensive settings
Built-in help
Mixer
separate headphones/speakers output (using a simple stereo splitter)
2-band EQ + Gain (iPhone only)
3-band EQ + Gain + EQ kill switches (iPad only)
external mixer support
advanced loop features (iPad only)
low-latency support
Effects
powerful 8-banks sample player (sampler) (iPad only)
effects XY pad (with 9 different effects you can combine, iPad only)
cut-off low-pass and high-pass filters
built-in BPM-synched effects:
Flanger, Echo (delay), Tremolo, Reverb, BeatWaw, Pan, Bit Crusher, Robot delay
MotionPlaying™ – place your iPhone/iPod on a turntable and scratch any song
Decks
automatic BPM detection (grid like) on the device
seamless intelligent looping and skip-beat
vinyl simulation including scratch, pitch, reverse play, brake
whole-track waveform display (iPad only)
professional CUE point functions including hot Cue-Play
multiple hot-cue points (iPad only)
pitch/speed control including pitch bend
Media Library
iPod library integration
automix complete playlists
instant search for a track
record your mixes to AIFF
External controllers, MIDI
supports MIDI hardware controllers on iPad (you will need the Apple Camera Connection Kit)
supported controllers (so far)


System Requirements
iOS 8 and above
iPad 3, 4, Air, Air2
iPhone 4S, 5, 5S, 6, 6 plus
optional: iOS compatible multi-channel audio device or DJ controller with multiple separate outputs (eg. for speakers and for headphones) or stereo-split cable