The biggest and best kept secrets are usually out in the open working so seamlessly that most people deny their existence and only a couple few that truly see the big, yet simple picture. In very much the same way, DJ exposure is something that even the newest DJs will have at least some idea about. (image source)
Of course, just like becoming the president of a country, knowing what you have to do and promising it is way different from actually doing it.
I've received many questions on how to actually get DJ exposure as quickly as possible and nearly always my answer was to make quality connections in the music industry, narrowing down on a particular genre that you wish to tap into. However, this answer isn't up everyone's alley, so the best thing that any aspiring DJ could consider is online promotion. Before jumping on the train though, you will need a solid framework for where you wish DJing to take you. This depends solely on the future DJ's commitment to his or her plan and more often than not, DJs already know what needs to be done, but it can come down to one's confidence or tendency to procrastinate.
Firstly, any DJ should understand that he or she is first and foremost an entertainer; many DJs craft their musical tastes in very unique and unexpected ways, but good ones take creating the atmosphere very seriously… it's not about what you do, but how you do it.
Always be genuine when creating and establishing yourself as an artist. Exaggerating your status and connections won't get you anywhere and once labeled badly, it takes real hard work to recover your reputation. Use the massive online environment to share what you have to offer, but don't post things for the sake of posting them. Put some effort into what you're expressing just enough to show your followers and future fans that you're a reliable source for all things music.
(image source)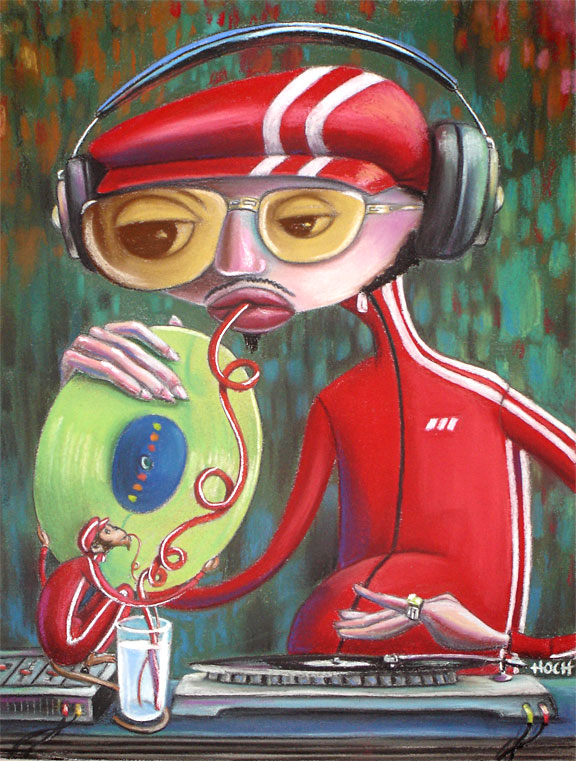 Secondly, never lie about your achievements or draw attention to the things you haven't done, either. Few fans can be gained from posting someone else's work or broadcasting your lack of experience.
All DJs know about sound communities like soundcloud, mixcloud, mixcrate where one can illustrate their creations, mixes in order to get followers, make friends and get inspired. Established DJs take online promotion to the letter and this is why you'll see that most have all the accounts linked to one another that lead back to the Facebook and LinkedIn pages. Make sure your social media pages clearly display how to contact you for bookings. Those interested will know that you're available for gigs and gives them more than one way to reach you: create a free Google voice # and perhaps a gmail account just for bookings.
Lastly, DJ exposure is about making sure that you're not ignoring your branding. Create a logo yourself or with the help of your friends. Make sure you get some quality headshots (it's best to hire a photo studio for this one). Something that most DJs are doing is asking for the photos from gigs they mixed at, so consider this especially if the photos are of good quality. As much as you may have heard this, quality and quantity is of the essence here as no matter the degree of your talent, how you're portraying it will create the first and possibly last impression.
You could be mashing up with 4 turntables blindfolded. If someone is filming you in a dark room with shaky hands, very poor sound quality and the capture is vertical, most will lose their interest as soon as it starts.