Future.dj pro is a pretty complete DJ-ing solution but you might not know that it can also help you to host karaoke shows. Be it at a venue, bar or even at home with your close ones during the lockdown. It has plenty of advanced karaoke features that will help you automate most of the boring stuff a karaoke host / KJ does and only leave you to deal with the fun part.
Karaoke Singers List
So, how do you host a karaoke show? The most important thing is the karaoke Singers List. During a karaoke show people will want to sing different songs that you need to search for in the database. You then add these songs (along with the singer's name) in the right side of the screen in the Karaoke Singers List. This is a special automated rotation list. The first singer in the list (at the top) is the one that comes next to sing. After she sings, she is automatically moved at the end of the list to make way for the next singer.
This automatic rotation goes on and on with singers singing different songs. Once in a while a new singer will want to be added in the rotation list. Again, the software "knows" which was the last person in the rotation list and places the new singer at the end of this rotation. You don't have to worry about anything, future.dj pro does this all for you. You simply need to press the Load Singer button when the next singer is ready to take the microphone.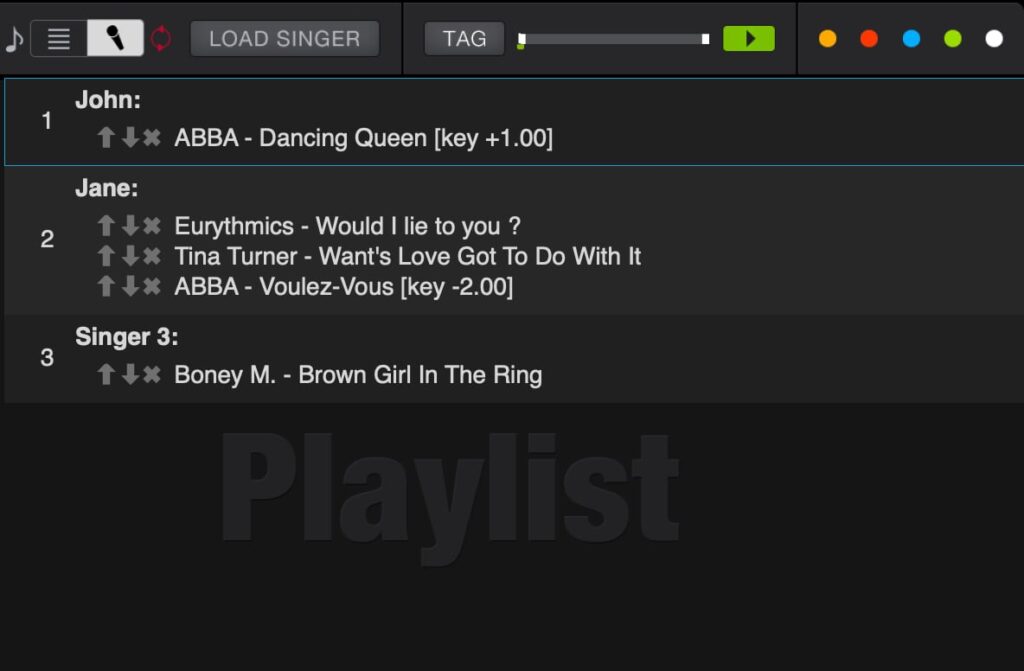 Key Adjust and Other Features
We also have more advanced features in future.dj pro like searching the History for a specific singer's history. Just go to the special History list in the browser and then type s:John if you want to see what John sang. Maybe John prefers to sing a specific song with a key adjustment. Let's say he wants to sing the song +1.5 semitones up – we can do that too.
What do you do when no one is singing? Well, you can use the background music player (BGM) to play tracks (automatically mixed) and also you can display the actual Singers List on the video screen. Maybe you can also put some advertising text or images using the Overlay Graphics editor.
We'll also do a follow-up post, maybe a video one since it's gonna be a lot easier to see all this in action rather than talk about it. It's all really very simple to use. Please try out these karaoke features and have fun while doing it!
2021 October 12 update: a video overview of the above: