This is a quick guide on how to start a FREE 2 weeks Pulselocker account in future.dj pro.
Step 1: Start future.dj pro and right-click on the Pulselocker logo (you can find it in the browser section).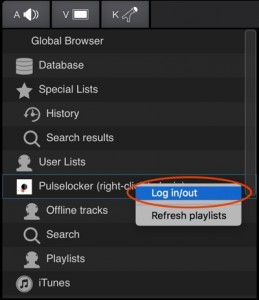 Step 2: Press 'Log In' and click on the box that says 'I don't have an account, yet'.
Step 3: Fill in your email address, password for your account, zip code and country.
Step 4: Press 'Sign Up'. Your new account is up and running.
Don't forget to verify your email before entering your account to search the oceans of music.
*Pulselocker is, for the moment, only available in Canada, the UK & the USA. More countries coming soon.
Enjoy and think of all the parties you can throw for two weeks with an endless supply of music in your DJ app. Use your trial wisely.